| | | | |
| --- | --- | --- | --- |
| Google Business | Yelp | Yellow Pages | Patient Connect |
The computer era has brought us an exciting new technology called digital radiography.
With this technology, we use computerized equipment and software to capture digital dental x-rays of your mouth and teeth. We do this by exposing a small sensor or plate that feeds the image into a computer.
The advantages of digital dental x-rays
Digital radiography has many advantages over traditional dental x-rays:
It's faster.
It's safer, with no chemical development and less radiation.
We can view images instantly.
We can enhance images to improve viewing.
Images can be stored electronically and e-mailed to specialists and insurance companies.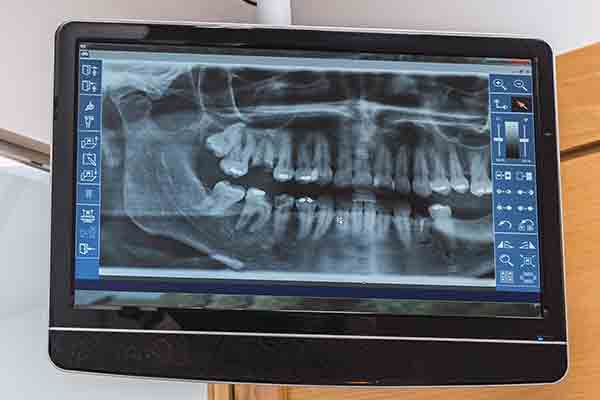 Taking digital dental x-rays is faster because the sensor is merely moved from tooth to tooth, and your x-ray can be seen on a computer monitor just moments after exposure. There's no waiting for chemical development, as with film packets. It's also faster because the x-rays are available within moments on the computer monitor, with no development step in between.
The lack of chemicals also makes digital x-rays safer for the environment. Digital radiography is safe for you, too. Because the unit is so sensitive, the amount of x-ray radiation is up to 80% less than with conventional x-rays.
Digital x-ray technology enables more efficient diagnosis and treatment because it provides a large, easy-to-see image, and it allows us to make adjustments and see details in the x-ray images. The digital x-rays can then become part of your dental record and be easily e-mailed to specialists and insurance companies.
With digital radiography, we can offer you a faster and safer diagnosis and dental treatment.


Staff were amazing with my child and their was no wait we were right in and out!!!!!!
Celia Lopez
Google Review


Every time I come in, everyone is friendly and professional. Dr. Bishop and his team are the best!
Kevin Soluade
Google Review


Another great visit! They always make me feel welcome and at ease.
Rose Willard
Google Review


Dr. Bishop and his staff are prompt, knowledgeable and professional.
Cookie Smith
Google Review
Our Six Month Smiles Dentist Office in Newark, DE
Address
300 Biddle Ave., Suite 204
Newark, DE 19702
Fax: (302) 838-8308
Get Directions
Have Questions About Six Month Smiles?
Fill out the form below and we will respond within 24 hours.