| | | | |
| --- | --- | --- | --- |
| Google Business | Yelp | Yellow Pages | Patient Connect |
Braces used to be the only way to straighten teeth affected by malocclusion (a bad bite). But now, we have a system called Invisalign. It allows us to straighten your teeth without using the brackets and wires of traditional braces.
How Does Invisalign Work
The patented Invisalign tooth straightening system uses a series of clear, removable aligners to gradually reposition teeth.
The aligners are smooth and comfortable, and they don't irritate your gums, cheek, or tongue. The Invisalign system also eliminates any allergic reactions that you may experience with metal.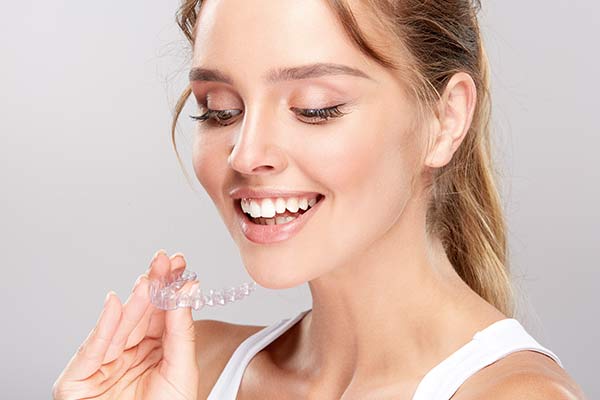 We first take impressions of your teeth, bite registrations, photographs, and x-rays. We send these materials, accompanied by a treatment plan, to the laboratory. The lab then creates the aligners—a set of precisely customized, clear molds. Each aligner is worn for about two weeks, and you'll remove them only to eat, drink, brush, and floss.
About every two weeks, you will replace the aligner with the next one in the series. Your teeth will move, a little at a time until they are straightened to the desired position. About every six weeks, you'll visit us so that we can ensure that your treatment is progressing appropriately.
How Long Does Results with Invisalign Take
It typically takes nine to 15 months to complete orthodontic treatment with Invisalign, during which time 18 to 30 aligners are used. The time it takes to complete treatment will vary according to your specific circumstances.
After a thorough exam and a review of your health history and lifestyle, we'll be able to determine if Invisalign is right for you.


Staff were amazing with my child and their was no wait we were right in and out!!!!!!
Celia Lopez
Google Review


Every time I come in, everyone is friendly and professional. Dr. Bishop and his team are the best!
Kevin Soluade
Google Review


Another great visit! They always make me feel welcome and at ease.
Rose Willard
Google Review


Dr. Bishop and his staff are prompt, knowledgeable and professional.
Cookie Smith
Google Review
Our Invisalign Dentist Office in Newark, DE
Address
300 Biddle Ave., Suite 204
Newark, DE 19702
Fax: (302) 838-8308
Get Directions
Have Questions About Invisalign?
Fill out the form below and we will respond within 24 hours.