Being a member of our Smile Brite Dental Savings plan offers you the ability to obtain your dental treatment at a reduced price. In an effort to help patients who do not have insurance, we designed an affordable alternative plan to maintain good oral health. This is not dental insurance and is exclusive to our practice.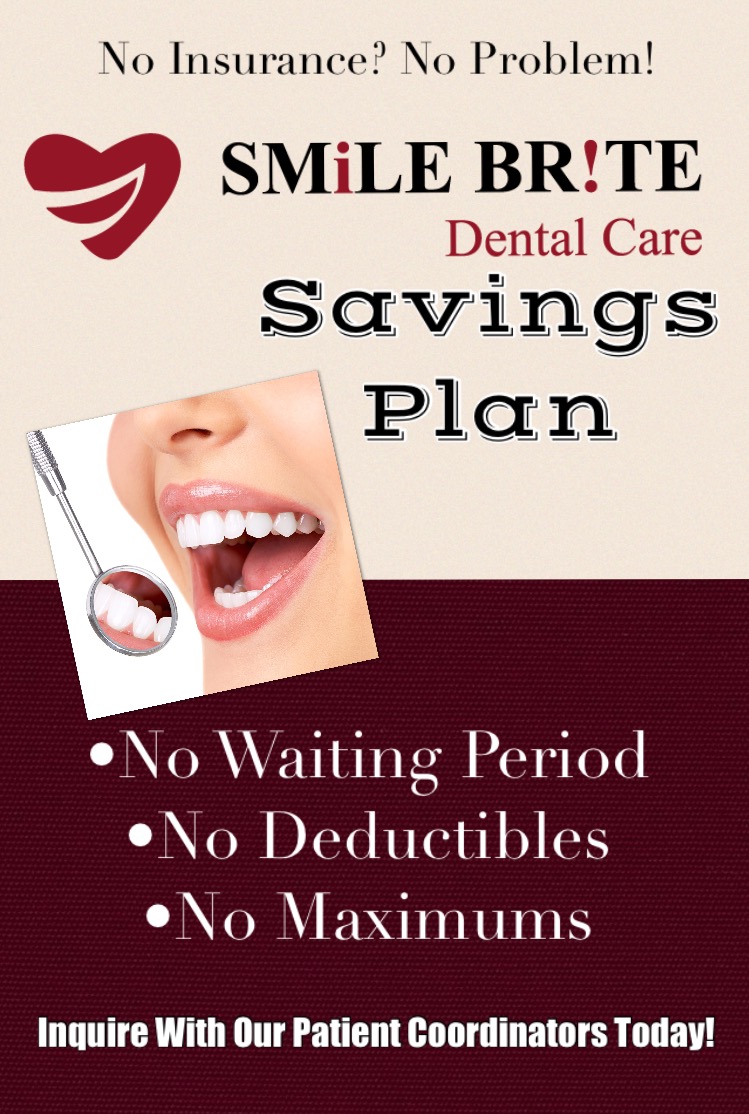 Our Smile Brite Dental Savings Plan will allow you the opportunity to visit our office regularly for your preventative recall appointments every six months. In addition, all dental treatments will be discounted by 20%. You simply pay 80% of our regular fee schedule. Preventative care is essential for optimal oral health. This plan will help you make regular visits at Smile Brite Dental Care.
Now, THIS is something to smile about!
Enrollment includes the following services for one year only at NO CHARGE!
Two cleanings per person per plan year. Additional cleanings are 20% off regular fees.
Two oral exams per plan year.
Two periodontal screenings per person per plan year.
Intra-oral camera imaging and photographs.
Checkup x-rays once per plan year.
Fluoride (children under 12 years of age) once per plan year.
Full series Xrays every 5 year years (with continuous membership in this plan.)
20% off all other dental procedures in our office only excluding Invisalign which will be offered at a 10% discount.
This plan can only be used at Smile Brite Dental Care, LLC. There are no discounts for any specialists or third parties. Full payment of fees is due at the time of enrollment. Enrollment fees are subject to change at the renewal of each enrollment period into this plan.


Staff were amazing with my child and their was no wait we were right in and out!!!!!!
Celia Lopez
Google Review


Every time I come in, everyone is friendly and professional. Dr. Bishop and his team are the best!
Kevin Soluade
Google Review


Another great visit! They always make me feel welcome and at ease.
Rose Willard
Google Review


Dr. Bishop and his staff are prompt, knowledgeable and professional.
Cookie Smith
Google Review
Have a Question?
Fill out the form below and we will respond within 24 hours.