| | | | |
| --- | --- | --- | --- |
| Google Business | Yelp | Yellow Pages | Patient Connect |
If a baby tooth or a new permanent tooth needs a crown, we have several options. We need to place a crown when decay has destroyed a large part of the tooth structure or when we have to remove infected pulp from the interior of a tooth.
Stainless steel crown procedure
A stainless steel crown is most often used on a baby tooth. This crown is strong and reliable, and it can be placed in one visit. In areas where esthetics are important, we may be able to place a stainless steel crown with a white coating.
We use stainless steel crowns for baby teeth because porcelain crowns are more expensive.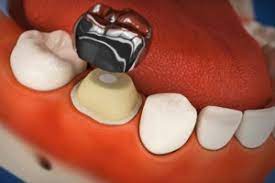 We have to remove a significant amount of tooth structure making a stainless steel crown the easiest to fit, and it will fall out with the baby tooth.
We might place a stainless steel crown on a new permanent tooth if the neighboring teeth are baby teeth. A stainless steel crown can be placed in just one appointment.


Staff were amazing with my child and their was no wait we were right in and out!!!!!!
Celia Lopez
Google Review


Every time I come in, everyone is friendly and professional. Dr. Bishop and his team are the best!
Kevin Soluade
Google Review


Another great visit! They always make me feel welcome and at ease.
Rose Willard
Google Review


Dr. Bishop and his staff are prompt, knowledgeable and professional.
Cookie Smith
Google Review
Our Stainless Steel Tooth Crowns Dentist Office in Newark, DE
Address
300 Biddle Ave., Suite 204
Newark, DE 19702
Fax: (302) 838-8308
Get Directions
Have Questions About Stainless Steel Tooth Crowns?
Fill out the form below and we will respond within 24 hours.