Best Dental Implants in Delaware
| | | | |
| --- | --- | --- | --- |
| Google Business | Yelp | Yellow Pages | Patient Connect |
Dental implants are an excellent treatment for replacing missing teeth. A root-form implant is the most common kind of dental implant. It is a small, titanium post that replaces the roots of a missing tooth. A custom-fitted artificial tooth, called a restoration, is secured to the implant, which holds the restoration firmly in place.
The benefits of dental implants
An implant has several benefits. Like the roots of natural teeth, it stimulates the jawbone when you chew. This preserves the jawbone and keeps it healthy. An implant is strong, comfortable, and secure. When the restoration is in place, the implant looks and feels much like natural teeth.
With careful home-care and regular checkups and cleanings here in our office, an implant can be an excellent long-term solution for missing teeth.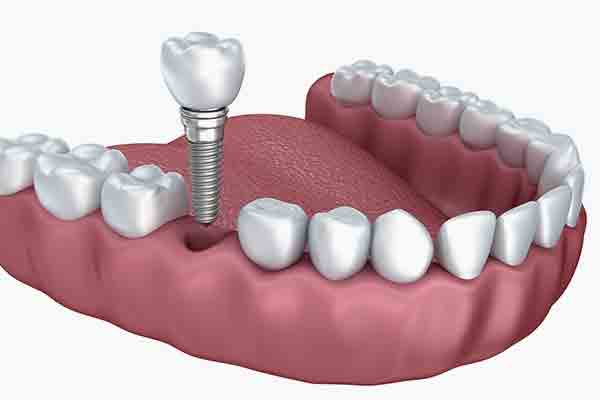 How is a dental implant used?
An implant can support a variety of restorations, such as a single crown, multi-unit bridges, and full arch dentures. Some restorations, like a single crown and most bridges, are not removable. Others, like many full-arch dentures, can be removed for sleeping and cleaning.
Dental implant diagnosis and treatment
Depending on the situation, placing an implant involves several phases, and treatment times can widely vary. First, we determine if an implant is right for you. We discuss your health history and treatment goals and perform a comprehensive examination to check the health of your gums and jawbone. We determine if you need any additional procedures, such as bone grafting or gum surgery.
To begin the procedure, a channel is shaped in the jawbone, and then the implant is placed into the prepared space. At this point, it may be possible to place a temporary restoration. Over the course of the next few months, the implant will become securely fused to the bone. The last step is to attach your beautiful final restoration to the implant.


Staff were amazing with my child and their was no wait we were right in and out!!!!!!
Celia Lopez
Google Review


Every time I come in, everyone is friendly and professional. Dr. Bishop and his team are the best!
Kevin Soluade
Google Review


Another great visit! They always make me feel welcome and at ease.
Rose Willard
Google Review


Dr. Bishop and his staff are prompt, knowledgeable and professional.
Cookie Smith
Google Review
Our Six Month Smiles Dentist Office in Newark, DE
Address
300 Biddle Ave., Suite 204
Newark, DE 19702
Fax: (302) 838-8308
Get Directions
Have Questions About Six Month Smiles?
Fill out the form below and we will respond within 24 hours.