Dental Fluoride Treatments
| | | | |
| --- | --- | --- | --- |
| Google Business | Yelp | Yellow Pages | Patient Connect |
Dental fluoride treatments prevent cavities in children and adults. It is especially important for children 6 months to 16 years old to get enough fluoride to protect their teeth.
When bacteria build up on teeth, they produce acids that dissolve the tooth's enamel, eventually forming a cavity. Fluoride strengthens the enamel and protects against the acid attack. In some cases, it can add minerals back to the enamel and reverse the damage from the acid attack.
Fluoridated Water Supplies
Many communities add low doses of fluoride to the local drinking water, which helps greatly in reducing tooth decay. If your water does not have fluoride, we can prescribe a fluoride pill or drops that deliver safe doses of fluoride to help strengthen teeth.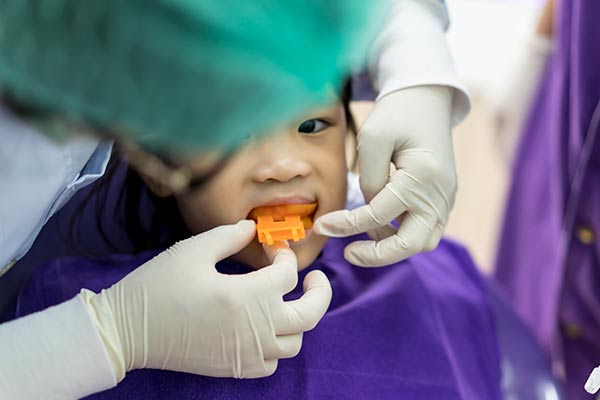 Fluoridated Oral Care Products
Everyone in the family should use fluoride toothpaste. Children should use only a thin smear until they are old enough not to swallow it. Older children and adults should use a pea-sized amount of toothpaste on a soft toothbrush. Older children can benefit from a fluoride mouthwash.
We may recommend a more concentrated dose of fluoride that we apply here in the office. We will use a tray to apply either fluoride foam or gel, or we may use a small brush to apply a fluoride varnish.
Fluoride is a strong weapon in the fight against decay and can help your child be cavity-free for a lifetime.


Staff were amazing with my child and their was no wait we were right in and out!!!!!!
Celia Lopez
Google Review


Every time I come in, everyone is friendly and professional. Dr. Bishop and his team are the best!
Kevin Soluade
Google Review


Another great visit! They always make me feel welcome and at ease.
Rose Willard
Google Review


Dr. Bishop and his staff are prompt, knowledgeable and professional.
Cookie Smith
Google Review
Our Six Month Smiles Dentist Office in Newark, DE
Address
300 Biddle Ave., Suite 204
Newark, DE 19702
Fax: (302) 838-8308
Get Directions
Have Questions About Six Month Smiles?
Fill out the form below and we will respond within 24 hours.