Extractions Due to Periodontal Disease
| | | | |
| --- | --- | --- | --- |
| Google Business | Yelp | Yellow Pages | Patient Connect |
When too much bone around a tooth has been lost due to severe periodontal disease (also called periodontitis), sometimes the best treatment is to remove the tooth to maintain the health of your mouth. This is known as periodontal disease extractions.
Periodontal disease causes bone loss
Teeth are held in place by the height and shape of the jawbone, but when teeth and gums are infected by the bacteria that cause periodontal disease, the disease process begins to destroy the bone that surrounds the teeth.
Left untreated, periodontal disease destroys so much bone that there is not enough support for the teeth. In severe cases, the teeth become very loose and cannot be saved.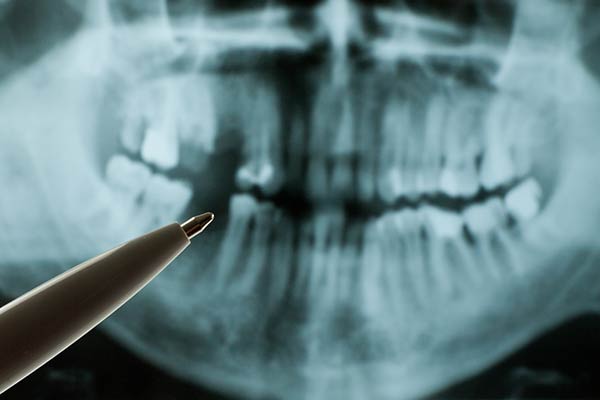 Periodontal disease extractions diagnosis and treatment
To determine if an extraction is right for your situation, we'll do a thorough examination, which typically includes x-rays. In advanced gum disease, sometimes called periodontitis, x-rays show us low and uneven bone levels around the teeth. The condition is especially obvious when compared to x-rays of a healthy mouth, in which the bone comes up high around the necks of the teeth.
Many times we can save teeth. Aggressive periodontal therapy, frequent periodontal maintenance appointments in our office, and consistent homecare can halt the progression of periodontal disease and stop bone loss. Sometimes we also recommend periodontal surgery to save teeth.
However, if your teeth continue to loosen and the destruction persists, our only option will be to remove the affected tooth. It's important to extract a tooth that cannot be saved as soon as possible to prevent the spread of infection.
We often recommend replacing an extracted tooth to preserve remaining jawbone and stabilize your bite, so we'll talk with you about your replacement options.


Staff were amazing with my child and their was no wait we were right in and out!!!!!!
Celia Lopez
Google Review


Every time I come in, everyone is friendly and professional. Dr. Bishop and his team are the best!
Kevin Soluade
Google Review


Another great visit! They always make me feel welcome and at ease.
Rose Willard
Google Review


Dr. Bishop and his staff are prompt, knowledgeable and professional.
Cookie Smith
Google Review
Our Six Month Smiles Dentist Office in Newark, DE
Address
300 Biddle Ave., Suite 204
Newark, DE 19702
Fax: (302) 838-8308
Get Directions
Have Questions About Six Month Smiles?
Fill out the form below and we will respond within 24 hours.