Oral Cancer Screening Examination
| | | | |
| --- | --- | --- | --- |
| Google Business | Yelp | Yellow Pages | Patient Connect |
We perform a thorough oral cancer screening examination during your checkups because early detection can save your life.
The signs of oral cancer
Oral cancer is the uncontrolled growth of abnormal cells in the mouth and throat.
Some of the warning signs are:
a red, white, or discolored patch or lump in or around your mouth
a sore that bleeds easily or that does not heal within 2 weeks
an area that has thickened, raised, or become hardened
a rough patch of tissue
difficulty chewing or swallowing
a chronic sore throat or hoarseness
Oral cancer screening exam
During the exam, we feel for lumps or abnormal tissue changes on your neck and inside your mouth.
We thoroughly examine the soft tissues in your mouth, especially the most frequent oral cancer sites:
your tongue
the floor of your mouth
your soft palate
your lips
your gums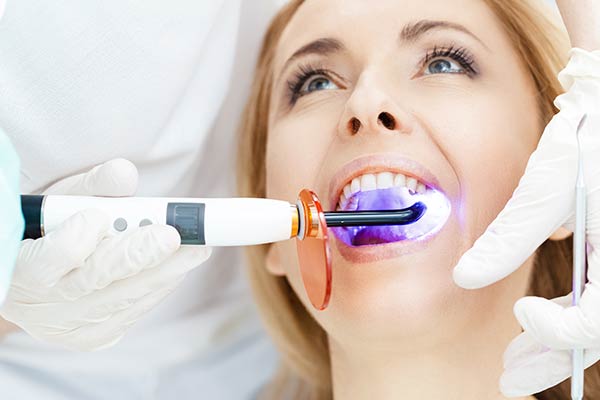 We may also do additional testing or use specialized equipment to identify any suspicious areas, particularly if you're at higher risk, such as adults over 40, anyone who uses tobacco, especially those who also drink alcohol excessively, or people who have had oral contact with the human papillomavirus.
Lifestyle changes
Some lifestyle changes can minimize your chances of developing oral cancer changes including:
Do not smoke or use smokeless tobacco
Avoid excessive use of alcohol
Eat plenty of fruits and vegetables each day
With regular exams and a healthy lifestyle, you can better maintain your oral and overall health


Staff were amazing with my child and their was no wait we were right in and out!!!!!!
Celia Lopez
Google Review


Every time I come in, everyone is friendly and professional. Dr. Bishop and his team are the best!
Kevin Soluade
Google Review


Another great visit! They always make me feel welcome and at ease.
Rose Willard
Google Review


Dr. Bishop and his staff are prompt, knowledgeable and professional.
Cookie Smith
Google Review
Our Six Month Smiles Dentist Office in Newark, DE
Address
300 Biddle Ave., Suite 204
Newark, DE 19702
Fax: (302) 838-8308
Get Directions
Have Questions About Six Month Smiles?
Fill out the form below and we will respond within 24 hours.